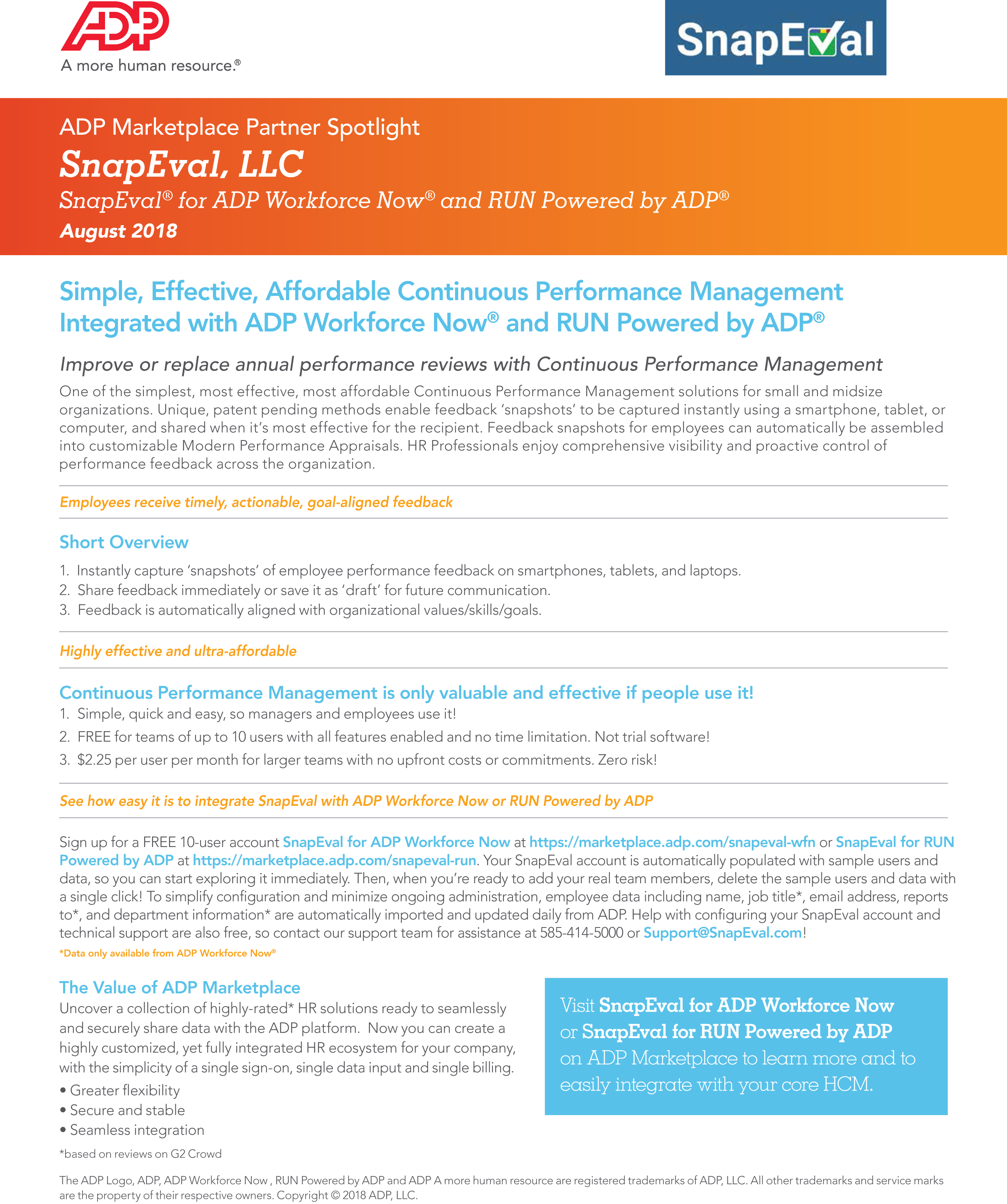 Article Text:
ADP A more human resource
®
SnapEval
ADP Marketplace Partner Spotlight
SnapEval, LLC
SnapEval
®

for ADP Workforce Now

®


and RUN Powered by ADP

®


August 2018
Simple, Effective, Affordable Continuous Performance Management Integrated with ADP Workforce Now

®

and RUN Powered by ADP

®
Improve or replace annual performance reviews with Continuous Performance Management
One of the simplest, most effective, most affordable Continuous Performance Management solutions for small and midsize organizations. Unique, patent pending methods enable feedback 'snapshots' to be captured instantly using a smartphone, tablet, or computer, and shared when it's most effective for the recipient. Feedback snapshots for employees can automatically be assembled into customizable Modern Performance Appraisals. HR Professionals enjoy comprehensive visibility and proactive control of performance feedback across the organization.
Employees receive timely, actionable, goal-aligned feedback
Short Overview
1. Instantly capture 'snapshots' of employee performance feedback on smartphones, tablets, and laptops.
2. Share feedback immediately or save it as 'draft' for future communication.
3. Feedback is automatically aligned with organizational values/skills/goals.
Highly effective and ultra-affordable
Continuous Performance Management is only valuable and effective if people use it!
1. Simple, quick and easy, so managers and employees use it!
2. FREE for teams of up to 10 users with all features enabled and no time limitation. Not trial software!
3. $2.25 per user per month for larger teams with no upfront costs or commitments. Zero risk!


See how easy it is to integrate SnapEval with ADP Workforce Now or RUN Powered by ADPSign up for a FREE 10-user account SnapEval for ADP Workforce Now at https://marketplace.adp.com/snapeval-wfn or SnapEval for RUN Powered by ADP at https://marketplace.adp.com/snapeval-run. Your SnapEval account is automatically populated with sample  users and data, so you can start exploring it immediately. Then, when you're ready to add your real team members, delete the sample users and data with a single click! To simplify configuration and minimize ongoing administration, employee data including name, job title*, email address, reports to*, and department information* are automatically imported and updated daily from ADP. Help with configuring your SnapEval account and technical support are also free, so contact our support team for assistance at 585-414-5000 or Support@SnapEval.com!
*Data only available from ADP Workforce Now®
The Value of ADP Marketplace
Uncover a collection of highly-rated1 HR solutions ready to seamlessly and securely share data with the ADP platform. Now you can create a highly customized, yet fully integrated HR ecosystem for your company, with the simplicity of a single sign-on, single data input and single billing.
• Greater flexibility
• Secure and stable
• Seamless integration
1 Based on reviews on G2 Crowd
Visit SnapEval for ADP Workforce Now or SnapEval for RUN Powered by ADP on ADP Marketplace to lean more and to easily integrate with your core HCM.
The ADP Logo, ADP, ADP Workforce Now, RUN Powered by ADP, and ADP A more human resource are registered trademarks of ADP, LLC. All other trademarks and service marks are the property of their respective owners. Copyright © 2018 ADP, LLC.