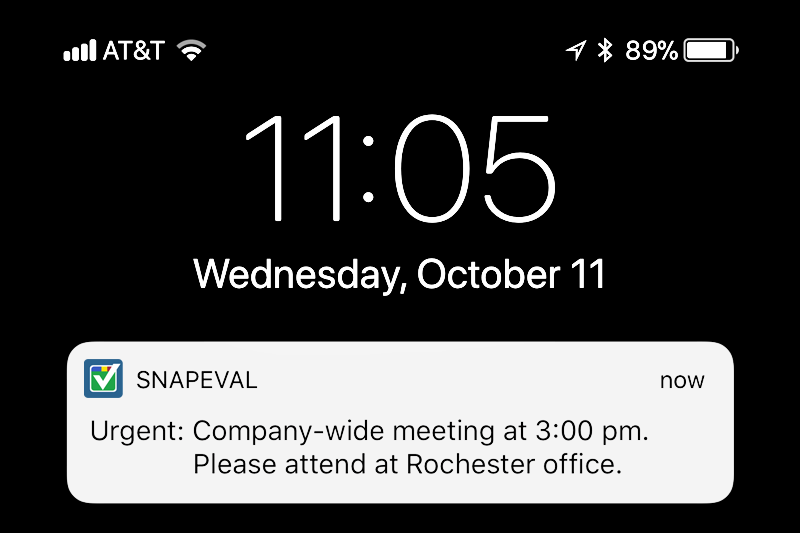 Push Notification Messages Deliver Urgent Communications  
Everyone with a smartphone is familiar with the push notification messages delivered by apps to inform and remind the user about important and timely information. You've probably experienced them yourself if you have a smartphone with a weather or news app installed. Research shows that push notifications are highly effective in engaging smartphone users when the message content is relevant and timely for the user.
Push notification messages can also be a powerful communications tool within an organization. Effective push notification messages for an entire organization can include facility closures due to inclement weather, "Rochester, NY offices are closing at 3:00 pm due to snow." or a reminder to attend a company-wide event, "The corporate luncheon starts in 15 minutes." Push notification messages to a group or individual can be even more tailored such as, "Please remember to prepare for tomorrow's department meeting."
We are excited to announce that SnapEval now enables HR Professionals and other Senior Leaders to send customized push notification messages to their organization's employees. Each message can be up to 250 characters in length and is accompanied by an email with the same message content to the individuals targeted for the notification. The email provides a permanent record of the notification and communication to any individuals that don't have the SnapEval mobile app installed or push notifications enabled on their smartphone.
SnapEval enables push notification messages to be targeted to a specific individual or to collections of individuals based on their SnapEval role or group enrollment. SnapEval roles include Organization Administrators, Group Administrators, Managers, and all Users. SnapEval groups are configured specific to each organization, but typical groups include collections of individuals by department, team, or job function.
SnapEval Organization Administrators (typically HR Professionals and other Senior Leaders) can send push notification messages to any role, group or individual. SnapEval Group Administrators (often department heads and team leaders) can send push notification messages to all members of any of their assigned group(s).
SnapEval's new push notification message capability also automatically notifies employees when they receive performance feedback. We will soon be adding additional automated push notification message support for other SnapEval actions!
For more information, we've posted a video How to Create SnapEval Push Notification Messages that shows how to use SnapEval's customized push notification features with your team.
I'm David Yeaple, VP of Business Development and Product Management at SnapEval, LLC. I'd love to get your feedback about this blog, our products, or anything else related to employee performance management. You can reach me at dyeaple@SnapEval.com or +1 585-414-5000.